Are beautiful black women intimidating to men?
Posted by Ria, 07 Jun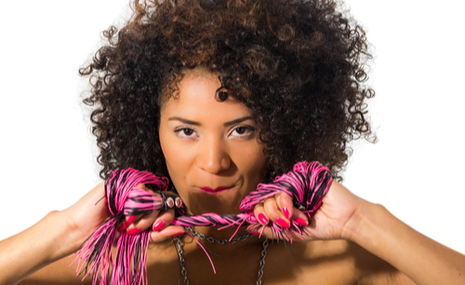 Are men just intimidated by beautiful black women or are they just scared of giving them a try? Whether generalized or not, we have the story of the emasculating black woman too many times to just overlook it. Article after article has mentioned how this perceived intimidation has left most black women single. This has gone to the extent of them being labeled "unmarriageable". But is this narrative true?
Well, read on and let's find out...
Find your soulmate on AfroRomance










Is the strong black woman really intimidating?
Compared to black men, black women have excelled when it comes to their levels of education and their careers. So generally, some men might be intimidated by their status and success. Some men might argue that dating this superwoman isn't intimidating. They are scared by the fact that her success might actually make them not have a relationship with a man. That this success will get into her head and she might end up making the man feel less of a man. So why even bother trying?
People might wonder. Why are black women so beautiful? Why do people brand the most beautiful black women intimidating? Does someone have tips on how to be less intimidating?
When it comes to black women and dating, there are usually more questions than answers. The thing is, black women are fantastic. And this is something that men of other races are realizing. There are men out there who just want to embrace the beauty of the African woman. Well here are some of the reasons why some men might find her intimidating:
She looks like she doesn't want to be approached
This is one huge misconception that black women have to deal with. There are some men who see her and assume she has got together. So what can a man in her life possibly bring to the table? To be honest, most black women look focused. And this might make them look serious in public. But this doesn't mean that she won't stop when someone shows genuine interest. This doesn't' mean that she is not interested in meeting someone new.
She doesn't settle for less
Now, the thing is African American women are known to be more educated than their male counterparts. So to be honest, if someone has worked hard all their life to be successful, why would you expect this person to look for someone less intellectually challenging?
She puts on the pressure
For a man who wants to get ahead, this is a good thing. The popular adage "behind every successful man there is a woman" is true. Black women want to rise with their men. Unfortunately this pressure to excel to some men feels like intimidation.
The thing is we always see a black female music artist rising against all odds. And a great example is Tony Braxton. Lupita Nyong'o is one of the black women in Hollywood from Kenya, Africa. And going deeper into black women in music history, the list is endless... Aretha Franklin, Etta James... The thing is, the black woman had been depicted in movies and tv shows as mostly angry characters. Luckily. Hollywood is now making moves to better that image with movies such as Hidden Figures and with the likes of
Mae Jemison
. Maybe, some men expect the beautiful black women to be as they see on TV shows, movies, and music. But the reality is different.
Why should we make them start looking for ways on how to be less intimidating? Men should start embracing the strength of the black woman. Coz that is the ingredient that makes marriages last. Why are black women so beautiful? They are strong. They can persevere in marriages. And when they believe in something, they will hold on to it and see it through. And that is what a good marriage is built on.
Dating a woman who has excelled like this is only intimidating to insecure men with low expectations. Luckily, not all men feel this way. Black women have a lot to offer and they don't let anything stand in their way.  Men who are confident enough to date this superwoman understand the pressure she goes through to maintain that stance and make it their duty to make her understand that she doesn't have to be a superwoman when she is with him. Such men realize that most black women also deserve safe spaces in romantic relationships and they are caring enough to allow them to be vulnerable.
In an article on Ebony, this dude, Lincoln Anthony Blades has the perfect partying shot:
"I'm not intimidated by your success, because your win is mine too and vice versa, but you trying to flawlessly save the world every second of every day scares the hell out of me, and I now realize there's something I can do about it."
If you are looking for more articles on dating black women, visit Afroromance to get all the juice.
3 responses to "Are beautiful black women intimidating to men?"
Leave a reply
You must be logged in to post a comment.