Bringing romance back: Date night ideas you'll both love
Posted by Ria, 31 Aug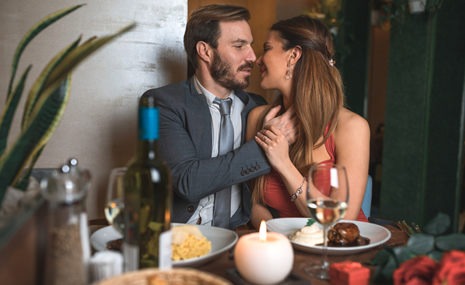 Romance isn't dead in your relationship; it's just on hiatus. It's a gap that isn't permanent. It's going to take some concerted effort to bring it back, however - and we're going to start with date night. Time alone together. Without-the-kids together.
Yeah, right, you say. Give me some ideas on how you think we can close that non-permanent gap. Well, OK then, here we go:
Find your soulmate on AfroRomance










Go to Dinner
That's not a misprint. And don't roll your eyes. Yes, you've gone to dinner a thousand times, and it gets more boring every time. This kind of dinner is different. This one's going to give you some adrenalin, something that doesn't happen when you go to Denny's.
Make yourselves free for an entire night. Get a babysitter, and don't come home until well after the kids are in bed. One of you should choose where to go, and make it dressy. Before the big night, go shopping for the sexiest, classiest, most-formal-but-not-boring outfit/suit/dress you can find (this goes for both of you). And don't let your other half see you before you meet in the living room at the designated time; you haven't seen each other dressed up since your Aunt Louise's birthday party last June, and it's going to make a promising impression.
At the restaurant, order something different. Try a different wine. Get a rich dessert. Linger. Talk about anything except the kids (as much as possible). When you're finished, drive into the hills that overlook the city and make out or go home and have an after-dinner drink in the privacy of your own bedroom. For tips on choosing the right after-dinner drink, visit She Knows.
Um... Sex Store Activities
Now don't go all, "I could never go to a sleazy place like that; how embarrassing!" Here's something you may not know: Sex shops ain't what they used to be. Besides an inventory of items that will help you get out of a sexual rut, they have professional staff, cafes and different types of classes; one in San Francisco even has an antique vibrator museum. They have boutiques that are stylized for your comfort and provide the ultimate ambience.
Go browse with your honey. Purchase something fun. Save it for your post-dinner activities. For more on tips on visiting a sex shop with your spouse, visit In Touch Marriage.
A Few More Ideas
Spa night at home. Ask your in-laws to watch the kids for a few hours at their place and give yourselves a spa night at home. Have plenty of candles, massage oil and some good mood music. Start your evening by taking a bottle of wine out to the hot tub. Throw in some aromatherapy crystals and enjoy a relaxing soak. For more about going hot-tubbing in the winter, visit Hot Tub Works. And speaking of spas...
Full spa day at a professional spa facility. Both of you can get a facial, a massage, body treatments or take a sauna. Check the spa you choose for a couples special package that includes complementary offerings for guests.
The spontaneous date. Anywhere, any time: Spontaneity for romance is a slam-dunk. Is there a concert that your mate would love? Buy tickets and surprise her. Pack gourmet foods and beverages for a nighttime picnic, then call your husband at work and tell him where to meet you when he gets off.
Boat rides. A boat ride is immensely pleasurable; you can take one and watch the sunset or just cruise the lake in the evening.
So there you go. Date night ideas that will bring your romance back from hiatus. Keep them coming and hiatuses will be a thing of the past.
Responses to "Bringing romance back: Date night ideas you'll both love"
Be the first to leave a comment
You must be logged in to post a comment.