How online dating apps are changing society and how we fall in love
Posted by Ria, 03 Mar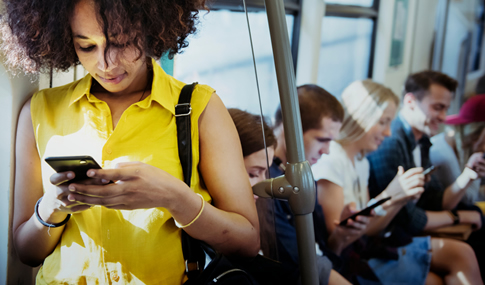 Have you noticed how dating apps are changing society and our relationships today? One of the things that we need to acknowledge is that dating apps and websites are making such a difference in the lives of singles. In fact, we will be correct to say that online dating is revolutionizing the dating world, making dating much more effortless.
Remember when the pandemic hit us? One of the things that made singles get by when we were on lockdown was online dating. Because most people weren't able to go out and meet people in real life, technology helped a lot of people feel less lonely. Imagine if it had happened in the past when there were no dating sites? Coping would have been very difficult, don't you agree?
Find your soulmate on AfroRomance










Some individuals prefer real-life dating, and it works for them. Then some have used dating sites successfully, and all they do is tell others why online dating is good. As of 2017, 40% of heterosexual couples and 60% of gay couples in the US met online. In addition, 12% of those married or in committed relationships say they met first online. So even before the pandemic, it clearly shows that meeting online has become a popular way for people to meet their partners.
So, when did dating apps start? Online dating dates back to the days of the rise of the internet in the 90s. Then, people assumed that it was reserved for the socially awkward and geeks who owned computers. Those were the days when computers were stationed in one place. So, people couldn't move around with those. Those who dated online were those who were glued behind their screens throughout.
Laptops and the launch of smartphones changed all that. Singles can search for love on the go through their smartphones. So, while on your commuter train, you can still get a date and alight at the next stop for a quick coffee date with the stranger you connected with while on the train.
Today you need not worry about the shortage of dating apps and websites. The only worry is how to choose the best one to cater to your needs. Those needs vary from interest-based dating websites to the kind of relationship you are looking for – same-sex, heterosexual, long-term, hookup… you name it. Race is also another niche that distinguishes these sites. Ours is among the top most reputable interracial dating sites. This is how dating has changed over the years. Instead of physically enrolling in a cooking class to meet people you share the passion for food with, trust me, there is a dating website for foodies.
Many dating sites offer free registration, but if you want to get ahead of the dating game, then going for the premium memberships or sites that offer paid memberships will give you access to better features.
Well, let's see how online dating is revolutionizing our love lives…
You make faster decisions
One of the main reasons people opt to use dating websites is the lack of time to move up and down after work searching for love. Our demanding lifestyles and increased work hours have made socializing almost impossible. This squashes our ability to seek a potential relationship or life-ling partners. What dating apps and websites are doing is resolving the growing disparity between work and our social lives. As I mentioned briefly, one could score a date while commuting, on your sofa at home, or even at your desk during that lunch break. Depending on what you are after, you could look at it as speed dating.
When one creates a profile, besides having a profile photo, people also have bios that describe their personality briefly, their hobbies and interests, and the qualities they are looking for in a potential mate. Compared to real-life dating, where all you have in terms of first impressions is just how they look or what they are wearing, most people on dating websites give the seeker of love something more to work with.
Presented with a potential mate's profile, you can have a rough idea about the person's likes and dislikes, their personality, and also if you have the qualities of their preferred mate. This way, if you are 45 and someone has clearly indicated on their profile that they are looking for someone between 20 and 30 years of age, you will not waste your time sending them an email. Instead, you will quickly move to the profile that wants someone your age. In short, the information provided on dating sites makes the decision to make a move (or not) easier.
Bigger dating pool
Looking at how dating apps are changing society, one of the reasons people use dating websites is that they provide a wider dating pool. If relocation isn't an issue, you can date even internationally, increasing your chances of finding love. So there are no geolocation barriers for online dating unless you put them there on your preferences. All it takes is just a tap of your screen, and there you are, chatting with someone oceans away.
This widening of the dating pool has helped those interested in dating a particular race but who live in a one-race community. For instance, if I am in Africa, the population is mainly black. So, if I prefer dating white people, online dating increases my chances of meeting white people.
Having a wider dating pool is a significant development. However, when it comes to real-life dating, one of the things that have made most singles' status remain is that in the circles you are used to, you find yourself meeting the same people every time. So that eagerness to start a romantic relationship with the familiar dies down. With dating, a little mystery is necessary.
I once asked a friend I recently 'coerced' into trying online dating why she was still single. She joked, saying, at the bar, she hangs out; it is as if she has dated or has been approached by every man she finds there, lol. The same routine brings you the same people, that's for sure.
On the other hand, online dating unveils fresh, more interesting people. Many people who have done it successfully usually say, "I would never have considered dating…". Dating websites have increased the social reach of singles, facilitating connections between singles who might never have crossed paths otherwise.
If you are looking to date out of your comfort zone, this is where you turn to. For instance, if you meet someone at work, chances are you already have a lot in common that is influenced by that environment. In other words, dating platforms bring people with different interests and cultures from all over the world together.
The process of online dating is simpler
Already, the fact that the dating pool is broader increases the chance of meeting someone who has the qualities of what you are looking for. Long-term or a fling, online dating will bring to you just that. But, do you want to know how simple it is to identify your perfect match? Simply search!
Search, and matching algorithms on dating sites make finding what you are looking for easier. For example, if I am looking to date people within my city, I must tick that when searching. Additionally, you can filter your searches based on age, location, race, willingness to relocate… These filters vary based on the dating website you are a member of.
Instead of moving from profile to profile of thousands of members trying to weed out those that don't have what you are looking for, applying filters when searching does the work for you.
When it comes to the ease of finding physically attractive people, dating sites carry the day, with 71% of online daters agreeing to this. In addition, 2/3 of those who use dating sites say that it's also easier to meet people with shared interests and hobbies online than offline. These sites allow a person to indicate what kind of relationship or person they seek. This is why it is crucial to complete filling out your online profile. Through the information you provide, the algorithm matches you to a potential mate with stated preferences or similar interests.
Parting shot: Relationships that start online are equally successful as those that begin offline
Whether a couple meets online or offline does not determine the success of a relationship. The same factors that make all relationships work apply because they will have to take their relationship offline at some point. One might argue that people don't get what they meet in person with online dating. That can be true and can make an online relationship not work. Well, here is my argument: At the start of every relationship, online or offline, a lot of sugar coating happens.
The thing with online dating is that it allows individuals to evaluate the other person before even deciding to meet. So, one could argue that a person gets to make decisions at their own pace. Singles get a chance to know each other, sometimes even verifying the authenticity of information the other person provides before meeting in person. So more often than not, the awkwardness of first-dates is usually eliminated, making it more likely for the two singles to go on a second date than those who meet online first.
There was also research done in 2012 that found that couples who initially met online have happier, longer relationships and lower divorce rates than those who met offline. Marital breakups for those who initially connected online were reportedly at 6 percent compared with 7.6 percent of the couples who met offline. The reason provided is that anonymous online communication elicited greater self-disclosure for those looking for serious relationships, which stirred up stronger feelings early before even meeting in person. Apparently, such openness lays the foundations for lasting relationships.
The thing is, whether it started behind a computer or at a pub, moving forward, every relationship needs nurturing. If you neglect it, it will end. The factors that make a relationship last are the same, indicating that both types of relationships can be equally successful. It all depends on the two individuals who are in it.
In conclusion, what we have found out about how dating apps are changing society is that on a broader level, online daters find the experiences exciting and describe them in favorable rather than negative terms. In addition, the majority say that they found someone easily online, agreeing that the search capabilities on the dating sites matched them with people who shared similar interests.
Just like any other form of dating, we can't run away from the fact that some online users have found this way of dating frustrating. Things like ghosting, catfishing, and even being swindled still happen. These things aren't specific to online daters alone. Even online shoppers experience such things. Even though people agree that deception is highly likely to happen online, online daters are relatively honest, with their lies being about minor things like weight or height.
We have seen success stories from lots of dating sites. We have seen lasting relationships courtesy of dating sites. My advice: Approach an online relationship as you would an offline one, with honesty being at the top of your list.
1 responses to "How online dating apps are changing society and how we fall in love"
Leave a reply
You must be logged in to post a comment.