How to make a long distance relationship work
Posted by Ria, 26 Apr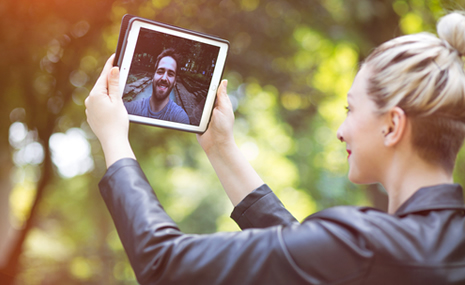 How to make a long distance relationship work
Here's how to make a long distance relationship work! It's not easy especially because of the separation that the partners have to endure. Most people believe that long-distance relationships never work out. Families may discourage it, and some of your best friends may advise you not to take it too seriously, in case you gt your heart broken.
Find your soulmate on AfroRomance










Don't even get me started on how complicated they can get.The sadness, the loneliness. These are things you have to get used to. However, the extra distance also makes the simplest things the sweetest. For instance, being able to hold the other person's hand, eating together at the same table, taking a walk together, smelling each other's hair, feeling each other's touch … these small wishes could suddenly mean so much more in a long distance relationship.
Long distance relationships will be tough but it has its own share of surprises too. To keep your love alive and strong, here are the 5 ways to make your long distance relationship worthwhile:
Avoid over-communication.
The biggest benefit of being in a long distance relationship is that it forces you to communicate. However, you don't really have to communicate 18 hours a day to keep the relationship strong and going. You may never, in the course of your relationship, have this much focused time and energy to spend communicating with your partner.
It is unwise to be too "clingy" and possessive. Most couples think that they need to compensate for the distance by 'doing' more. This isn't true. It will only make things worse.
Keep the communication to a minimal. It's just about teasing at the right moments. However, make the most of it within reason. If you get to know them well, that will pay off big-time. Make sure that you always say good night and good morning.
Manage your expectations.
Set a couple of ground rules to manage your expectations. Make sure none of you does things that will take the other party by surprise. Will you feel bitter if the other person goes on a date wherever they are? What is the commitment level? Are you exclusive? It's wise to be open with each other about these things.
Talk dirty
Sexual desire is the glue that keeps couples from drifting apart. Sex a biological need, it is also an emotional need as well. Sexual tension is one of the most important things between couples. Keep the flames burning by sending each other teasing messages filled with sexual innuendos and provocative descriptions.
Meet in person as frequently as you can
There are things you can only learn about someone face to face. But the initial reason why it's a good idea to meet in person ASAP is simple: You may have great chemistry on paper or over the phone, and absolutely none in person. In case of any disagreements, never try to lash out issues via text message – there's too much room for misunderstanding. If possible, save your serious disagreements for when you can talk them out in person.
Trust
You need to seriously trust one another.
Let's hope that the above tips on how to make a long distance relationship work will be useful to you
1 responses to "How to make a long distance relationship work"
Leave a reply
You must be logged in to post a comment.