Power Up or Lose a Life: The Pros and Cons of Dating a Gamer
Posted by Ria, 02 Jan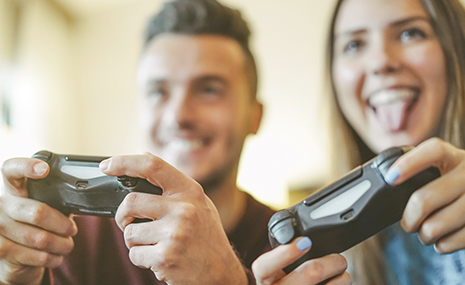 Face it: you thought love, happiness and possibility was only conceivable in "The Sims." You had no idea you'd meet the gamer girl (or guy) of your dreams at Comic-Con thanks to an obscure reference to Dune, only to spend the next 24 hours in a sci-fi, comic book, gamer geek-off -the nerd equivalent of Ethan Hawke and Julie Delpy riding through Europe in "Before Sunset" But remember, all that glitters is not gold, and for every reward there is to dating a gamer, there is also a risk.
Pro (Power-Up)
Find your soulmate on AfroRomance









Gamers are fun, laid back and young at heart. The gamer girl isn't going to judge you for having a collection of Star Wars action figures, nor is she going to be upset when you blow your paycheck on a larger-than-life HD TV – really, she understands "Grand Theft Auto 5" needs at least 50 inches of 1080p. The gamer knows that true escapism is essential to enjoying to life.
Con (Lose a Life)
Gamers are too fun, too laid back and too young at heart. Gamers would rather retreat to a fantasy world than face life's responsibilities and problems. Can you imagine getting serious and growing old with someone who devotes six hours every Saturday to "Call of Duty" or "World of Warcraft?" Grow up, right? At a certain age, laid back and young at heart are nothing more than code for Peter Pan Complex.
Pro (Power-Up)
Gamers are social creatures. While gamers were once relegated to suburban basements to play Pac-Mac on Atari 2600s, or host epic Dungeons & Dragons battles while listening to obscure prog-rock albums, today's joystick jockeys are mainstream members of society. Whether they're heading to a gaming or comic book convention, or simply showing off their tech savvy by chatting online, the antisocial stigma that has long plagued gamers is gone.
Con (Lose a Life)
Gamers may be social, but man-o-man, they're an insular group. Simply put: gamers hang out with other gamers, so if you don't like chatting about Donkey Kong, Skyrim or even mobile games like iWin.com Jewel Quest, you may feel as if you've stumbled into one of Dante's rings of hell. If you want to talk about food or sports, what are you going to do when the only food or sport the gamer in your life knows about is "Burger Time" and "Madden NFL Football?"
Pro (Power-Up)
You will never have to slam doors or stomp around the apartment again because every argument can be settled with a best two out of three "Street Fighter" or "Mortal Combat" face-off. She has a bad day at work and comes home snippy. "Hey, don't take it out on me," you say. "Take it out on the console." Can't figure out which one of you is responsible for taking vacuuming, cooking or doing the laundry? "Tekken's" King of the Iron Fist Tournament should settle it.
Con (Lose a Life)
When she shows her gaming chops and handily beats you two out of three, you're going to be upset. In fact, you're not only going to challenge her to a rematch, but when she beats you again, you're probably going to blow your top and start a fight. It's a vicious circle. You play "Street Fighter" not to fight, only to end up in mega-spats when Cammy gives you the beat down.
Responses to "Power Up or Lose a Life: The Pros and Cons of Dating a Gamer"
Be the first to leave a comment
You must be logged in to post a comment.