Seems like Blac Chyna is cashing in on the Coronavirus pandemic...
Posted by Ria, 14 Apr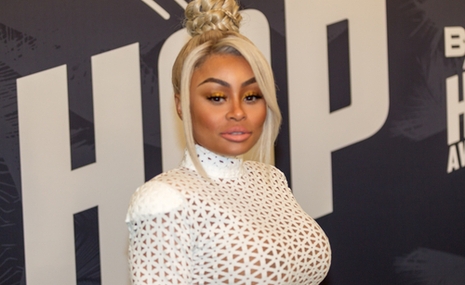 Photo credit: Jamie Lamor Thompson / Shutterstock.com
Blac Chyna will FaceTime you and follow you back on Instagram… for a price! That's working from home alright!
Find your soulmate on AfroRomance










The reality star might be missing out on getting payment from public appearances due to Covid-19, so has taken matters into her own hands.
The 31-year-old mom-of-two has taken advantage of the world's reliance on video calling by offering to do the same with her fans. Although it's going to cost aforementioned fans quite a pretty penny…
According to her business site, Lashed Cosmetics, Blac Chyna is charging fans $950 per FaceTime call, although there are no more details on when the calls will take place, or indeed how long each call would last for.
"Get a FT call from me personal" the Lashed Cosmetics description reads.
The description also adds that she will follow fans back for $250 per Instagram account. Although again, there is no information on how long she will follow her fans for…
"Following back on IG add your user name in the address line. Please allow 24-48 hours for her to follow back. Thank you," the description reads.
And it seems like Blac Chyna is aware that the payments are quite steep, which is why she is offering her fans the chance to pay in installments via QUADPAY.
How… generous?
Understandably, fans and non-fans alike have criticized Blac Chyna for cashing in during such a terrible time – especially when celebs around the world are doing the opposite and donating generously to various charities, organisations, and health services.
See below for some of the backlash on Twitter…
@realzariarenee

"Lmaooo Blac Chyna really charging $950 for a FaceTime call an $250 for a follow back!"

@JT_YFS

"Blac Chyna charging $950 for u to FaceTime her… Y'all are sick if u pay that."

@scottygirl2014

"Girl should be in the WH for this kinda scam!"

@purple_11ama

"She needs to f**kin pay me to follow that"
However, her legal team has insisted that Blac Chyna's latest business move is simply out of "necessity" in order to be the best mother she can to King, the 7-year-old son she shares with Tyga, and Dream, the 3-year-old daughter she shares with Rob Kardashian.
"Yes, Blac Chyna is connecting more directly and creatively with her fans via FaceTime and Instagram follow backs during the Covid-19 pandemic! Like the true entrepreneur she is, Chyna is adapting to current realities and trying to bring more fun and joy to quarantine life," her lawyer said in a statement, according to People.
"Chyna's quarantine-related creativity is also born out of economic necessity.
"Despite many false media reports to the contrary, Chyna receives no child support from either Rob Kardashian or Tyga for her two beautiful children, Dream Kardashian and King Cairo Stevenson," the statement continued, before referencing the ongoing custody battle she faces with Rob Kardashian.
"To make matters worse, Rob and his family have filed false accusations that Chyna is an unfit mother and are trying to take away Chyna's custody of her precious daughter, Dream.
"Chyna will continue to fight these false claims in court to keep custody of Dream, especially after Dream was severely burned twice at Rob's house."
The statement continued to reference the expenses involved with the custody battle between her and Rob Kardashian, and the difference in wealth between Blac Chyna and one of the richest and most famous families in the world…
"But these unwarranted custody battles are not cheap — and unlike a certain allegedly 'self-made' billionaire in Rob's family, Chyna is truly a self-made single mom who must keep finding unique ways to connect with her fans during this unprecedented global pandemic.
"Chyna looks forward to FaceTiming with her 'Chyna Doll' fans from around the world and to following fans on IG who want to share their lives with her!"
Do you think Blac Chyna has made a smart business move to protect her family? Or do you think she is exploiting fans during this terrifying and uncertain global pandemic?
Responses to "Seems like Blac Chyna is cashing in on the Coronavirus pandemic..."
Be the first to leave a comment
You must be logged in to post a comment.