She Left the Restaurant with a Ring On
Posted by Leticia, 20 Jul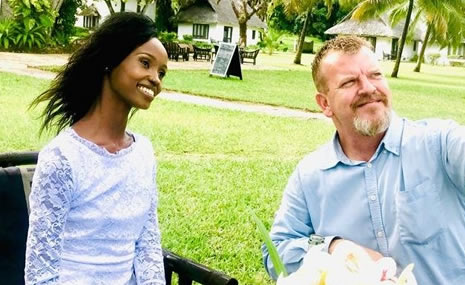 Sharon and Todd are now husband and wife, but not so long ago they had "zero confidence" (says Todd) or would tell us "I wasn't so confident I would find love online" (Sharon). The female component of this man-and-wife team says she had "bad experiences" on other sites, and her husband notes that "most ladies I was meeting on other sites only wanted fun." Todd was looking for something more serious.
We asked Sharon what led her to post a dating profile with us. "I was inspired by my friend who found her husband on your site," she answers, "and since I was a little girl I always wanted to marry outside my race. I had tried other sites, which never worked for me."
Your perfect partner could be online right now...
What are you looking for?
Posed the same question, Todd has a good answer. "I've always been inspired by the diversity in African culture," he begins. "And not to forget, dark-skinned women of African descent are the most beautiful women in the world! I had tried other dating sites in America, but they didn't work for me. I'm grateful for this site because I found my beautiful African wife!"
Quite some time passed before their first meeting, however. "I was on and off for one year," says Sharon. Todd recalls, "I was on your site for two years, but I kept on switching off my profile. Something kept telling me that my love search would end if I reactivated my account, though. Luckily, when I was almost giving up, I found this beautiful profile and messaged her. The rest is history!"
That's how Sharon remembers it as well. "He wrote to me first and introduced himself as Todd. I'm glad I paid attention to him!"
There was something about Sharon's profile that Todd found irresistible, noting that she was "95% of what I was looking for." As is often the case, her pix are what he noticed first. "Her beautiful smile caught my attention!" exclaims Todd. "I loved how she described herself as slender and tall, and she also mentioned that she's 'drama free.' I was really interested in knowing more about her. I wanted to see that smile for the rest of my life!"
What was it about Todd's profile that made him stand out in Sharon's mind? "How he described himself, and the fact that he was living and working in India, caught my attention," Sharon reveals. "I was really interested in knowing more about him, and his experiences. I'd say [he was] 80% of what I was looking for."
"After long conversations and WhatsApp calls" the duo decided to take the next step, despite the fact that they lived in different countries. As Todd puts it, "We talked for long hours on the phone and realized we both wanted the same thing in a partner, so I decided to buy flights and flew to Kenya to meet her."
Meeting in person for the first time, at the airport, Sharon had no complaints. "He was handsome and looked younger than his age. I couldn't resist him, and I hugged and kissed him."
Todd's first impression was very favorable as well. "She was freaking beautiful and sexy," he declares. "I was nervous she would change her mind... I felt better after she kissed me in front of too many people!"
Taking Todd on a tour of her favorite destinations in Kenya, Sharon was impressed by his open-mindedness to the local cuisine. "He embraced the African culture and liked staple food (ugali)," she says approvingly.
Todd didn't expect to find they had an easy rapport, given that they'd never spent one minute in the same room until now. "It was surprising how easy it was to have a conversation with her," he marvels. "I felt like we had known each other forever despite it being our first date."
The more time they spent in each other's company, the more they wanted more! "We clicked on so many things," says Sharon. "There was lots of laughter and smiles and jokes. I wanted to be with him forever." Todd beams at this, adding, "That smile! I wanted to keep her smiling forever!"
It's always a good sign when a couple finds more here than initially met the eye. Sharon says Todd's profile didn't capture "how easy it is for him to make me laugh, even for the simplest things in life. Sometimes I don't even think he realizes it." And Todd says that he has come to greatly appreciate "how strong and supportive she can be for me!"
The "distance and time difference" posed problems for Todd and Sharon, but crucial things about their relationship convinced them to overcome these obstacles. "I have to say it was in Kenya when I saw how genuine he was, not just to get to know me but to learn, embrace and respect my culture," Sharon says.
Todd clearly remembers the moment when he realized his relationship with Sharon was special. "When I set my eyes on her in our first meeting, in her country, and she smiled with such warmth and kindness in her eyes that I knew I wanted nothing less than to be with her every day for the rest of my life."
Todd was so ready for this he would soon find himself popping the question. Sharon will never forget the circumstances… "We were having our dinner at a nice restaurant and he told me he was going to the washroom," she remembers. "I excused him and after a few minutes I heard romantic music playing, and a band of artists was dancing. Everything was in stand-still and my now-husband knelt on his knees and asked me to be his wife. I was all blushing since I didn't expect such a romantic marriage proposal!"
Sharon says her life now is filled with happiness. Todd believes that finding love has changed him, for the better. "I'm now more focused on growing my family," he says. "Above all, I am so happy and contented! Life is amazing."
Sharon believes singles should remember that "patience is key, and there's always someone out there for you." Todd agrees with that advice. "Take your time to know each other on emails, and be patient," he says. "Let love find you."
It certainly found them!
32 responses to "She Left the Restaurant with a Ring On"
Leave a reply
You must be logged in to post a comment.