Summer Entertaining Tips for Couples
Posted by Ria, 13 Aug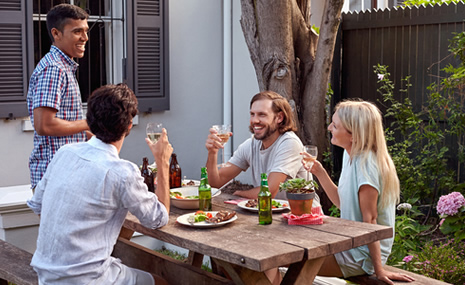 Summer is here and we're in the midst of summer party season. This means backyard barbecues and no shortage of family get-togethers. If you're hosting this summer, for the first time or for the 100th time, these summer entertaining tips can come in handy.
Communal Setting
Find your soulmate on AfroRomance










When hosting a family get-together, you'll want to make sure that you have a communal setting. Creating a shared space is crucial. Doing so means that you've done your best to make sure that everyone, from both sides of the family, is included. For example, if your dad is a big sports fans, and you know some of your partner's family is too, turn the game on and make sure there's comfy seating around the TV. It might be hard to see at first, but there's likely some bonding happening during the game. Will there be kids present? Be sure to set out some board games or toys in a play area to keep the kids busy. When planning a summer season party, it's wise to take shade into consideration. Family members of all ages will be present and not everyone may be as tolerant of the heat or sunshine as yourself. Outfit your yard with shade canopies to keep everyone cool and comfortable throughout the day. And when it's time to eat, keep it informal. Picnic table-style dining is plenty good. Just be sure that there is plenty of seating, and ample elbow room so that everyone is comfortable throughout the meal.
Assign Tasks
It's smart to assign tasks for your family members — they're more than likely happy to help. Make sure that someone is in charge of supplying the drinks and ice. Another can run the grill. And you might even want to encourage your partner's family to bring some of their traditions along to share with your family, like a family recipe dessert or side dish. Delegating tasks and duties to members of your family and your new family will not only help them to feel included, but it can also free up some time and cut out some of the stress that comes with planning a big family barbecue.
Get Ahead
Hosting friends and family at your home makes for the perfect time to catch up, chat and spend time with the people you care about most. But you're missing out if you're spending the entire day inside, in the kitchen prepping tons of food for everyone. Rather than wait until the day of your family barbecue, prepare a few dishes a day or two before your big event. Crockpot cooking is essential when preparing food for large groups. You can whip together deliciously pulled pork sliders with little effort. Just toss your ingredients in a crock pot for six hours and you're good to go. Other prepare-ahead dishes like caprese sticks or a chilled mexi-corn dip are sure to keep your guests' appetites satisfied, and you out of the kitchen on the day of your barbecue.
Feeling the heat of summer entertaining? Bringing two families together doesn't have to be stressful. These entertaining tips can help take the stress out of hosting a barbecue.
Responses to "Summer Entertaining Tips for Couples"
Be the first to leave a comment
You must be logged in to post a comment.