Viola Davis, Kerry Washington & more stars react to Roseanne cancellation following racist Tweets
Posted by Ria, 31 May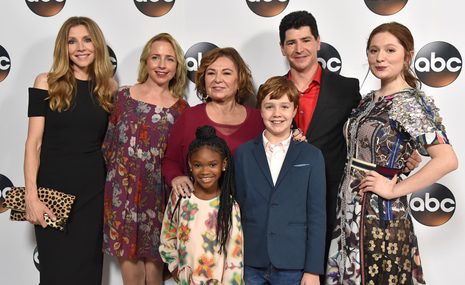 Photo credit: DFree / Shutterstock.com
Just the other day, ABC stunned Hollywood for canceling the revived TV show Roseanne following racist tweet by the lead actress Roseanne Barr.  ABC President Channing Dungey made the decision to immediately stop the show's production, after Barr's offensive Tweets about Barack Obama's former advisor Valerie Jarrett. In the tweet, Barr referred to  Jarett as an offspring of  "Muslim Brotherhood & Planet of the Apes."
Find your soulmate on AfroRomance










"Roseanne's Twitter statement is abhorrent, repugnant and inconsistent with our values, and we have decided to cancel her show," said Dungey.
Some of the biggest A-listers in Hollywood have praised ABC for canceling the revival of Roseanne, following the racist Tweets from the show's lead actress.
Everyone from Kerry Washington to Viola Davis to Shonda Rhimes has praised the network for its quick decision!
@violadavis

Thank you Channing Dungey!

@shondarhimes

The terrible part is all of the talented innocent people who worked on that show now suffer because of this.  #notjustice

@shondarhimes

But honestly she got what she deserved.  As I tell my 4 year old, one makes a choice with one's actions.  Roseanne made a choice. A racist one.  ABC made a choice.  A human one.

@driverminnie

So proud of @ABCNetwork for having the ethical compunction to cancel #Rosanne despite the show's huge numbers. We too make a show about a middle class family , come and watch us instead #speechless @Speechless_ABC

@kerrywashington

My prayers go out to the cast and crew who will now pay the price. But THANK YOU @RobertIger, #ChanningDungey and @ABCNetwork for standing up against bigotry. #Rosanne

@DebraMessing

I just heard #rosanne is cancelled. My reaction— tears. I am so relieved and grateful. The hate that has been spewing from those in Trump's orbit has really taken a toll on all of our souls and psyches. I didn't believe it would happen. I had lost faith. Thank you @abc
The not-such-a-shocker was the tweet from one Donald Trump about the cancelation! His reaction?
Bob Iger of ABC called Valerie Jarrett to let her know that "ABC does not tolerate comments like those" made by Roseanne Barr. Gee, he never called President Donald J. Trump to apologize for the HORRIBLE statements made and said about me on ABC. Maybe I just didn't get the call?

— Donald J. Trump (@realDonaldTrump) May 30, 2018
We too would like to congratulate ABC for dealing with this quickly, professionally and ethically.
17 responses to "Viola Davis, Kerry Washington & more stars react to Roseanne cancellation following racist Tweets "
Leave a reply
You must be logged in to post a comment.