Why men love women who love themselves
Posted by Ria, 04 Jan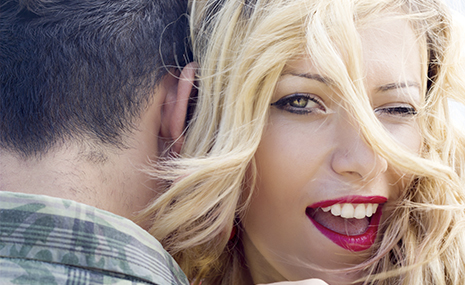 This Christmas I got a gift I needed most – a lesson on why women must assert themselves when it comes to love issues.
I should have been on a date with my guy but instead, I choose to curl up on my couch doing something I find more edifying. Yes! Reading a book! My pal gave me, 'Why Men Love Women Who Love Themselves' and it's the best thing I have done for myself this year. It's so good that I have switched off my phone against all interruptions – I don't even want my better half calling me coz tonight he is my bitter half.
Find your soulmate on AfroRomance









"Are you tired of sitting around on Saturday nights, waiting for him to call you and come up with a plan?᾿ goes the author (a woman) who - point taken - is described as a happily married for the last like 15 years. "Well then, stop doing it!᾿ Damn! I like this book already and I haven't even gotten to the second paragraph.
"Get off that couch and get a life of your own. Don't sit around waiting for him to come with an activity plan. Get one for yourself. After all, no man likes a woman who acts like her whole life revolves around him.᾿
But it gets worse. "Do you sit around all day, filing your nails and waiting for him to call, and when he does, drop everything you are doing just to be with him? Pathetic!᾿
Well, pathetic indeed. Come to think of it, how many women do exactly that … every Friday and Saturday night? I must admit I am even flushing from embarrassment. It's like the author is actually addressing me. A woman who puts her life on hold for a man :roll:
Before I know it, I am so engrossed in this book. Chapter after chapter of being slapped right back to reality. The author explains how the commandments have ruined the lives of many women, who have had to sacrifice their wants and needs to become what they think their men wants. "And yet all he wants is the feisty challenging woman who will be honest enough to let him chase after her – if that's what she wants – or let him down easily but firmly if she decides she doesn't want anything to do with him᾿ my heroine continues.
And she goes on to detail action plans. In a nutshell, look good to make yourself happy. And if you are happy with yourself, the whole world will fall in love with you. If you are struggling to be the person someone else imagines you to be, even you will be straining at being something you are not.
Build your own life and let him figure out how to fit into it. If Friday is beauty night, so be it … strictly. Be selfish for once. Respect yourself and your boundaries. And then he will have no choice but to respect them too.
And before I know it, it is four in the morning, making my way to bed after reading every word – even the acknowledgments. I stay awake reflecting about my life and the lives of the women around me vis a vis what I just read. Truth be told, women are the ones always bending over backward to please men.
We are the ones who learn how to cook Indian and Italian simply because he likes to eat it. We are the ones who have to go to the gym simply because he says you are fat while he eats roast meat and drinks beer and keeps growing that ugly pot. We are the ones that struggle to prove that we are faithful when we know that he is the one doing all the cheating.
Look at my ex-friend, Alice who sacrificed me for a man that still makes a pass at me whenever he sees me. Look at how many friends you have sacrificed just because you thought your guy looks at her in a manner likely to suggest that she is some candy waiting to be feasted on.
I tell myself as I sleep – Ria, it's time to break the cycle. And it all starts with me. Isn't it the best Christmas gift?
Responses to "Why men love women who love themselves"
Be the first to leave a comment
You must be logged in to post a comment.