A Taste for Adventure
Posted by Leticia, 19 Mar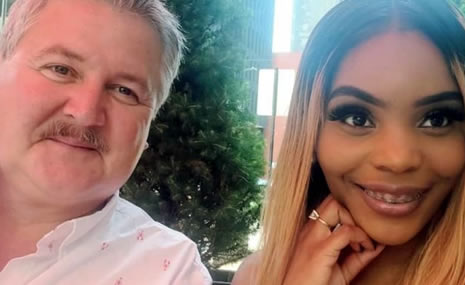 Finding love has changed Neicy's life forever. "I'm so happy and thankful to have met Greg," she tells us. "He gave me a beautiful baby girl whom I gave birth to on Martin Luther King Day 2022. So I'm a momma now!"
Her husband, Greg, has also seen his world transformed. "I'm more patient now, I laugh more... and I am now a father," he marvels. "So, a lot has changed, and I couldn't be happier."
Your perfect partner could be online right now...
What are you looking for?
Even before meeting Greg on our site, Neicy was no stranger to internet personals. "This wasn't my first experience with a dating site," she reveals. "I was tired of dead-end dates with no chemistry, and I wanted to try something new, so I tried [this site] after hearing about it from a friend."
With that recommendation in mind, she posted a profile with the handle "LovableHaz." One year later, she heard from Greg…
And what brought him to our site? Greg cites a shallow dating pool as the reason he gave up on the real world and took his search for love online. "I'm from a small town," Greg explains. "I didn't want to date someone local. I had tried other sites thought I'd try this one and see how it would go… I had no expectations. Pretty happy with the outcome!"
We asked Greg what it was about Neicy that piqued his curiosity in the first place. "She was beautiful, the prettiest girl on the site," he declares. "Why WOULDN'T I try to get her to talk to me?! I both emailed and Flirted. Wanted to make sure I got her attention!"
Well, he did. After taking a gander at Greg's profile, Neicy decided to respond. She says it was "his smile, and kind eyes" that really spoke to her. As they started chatting, the foundation for a great relationship quickly fell into place. Looking back on it, Neicy can pinpoint the very moment she first realized their relationship's potential. It was "on the phone in my room," she says. "I talked on the phone with him all night! I realized then that I cared deeply for him."
The quality of their conversation was a green light for the next step – meeting IRL. "We chatted until I felt comfortable [going on a date]," Neicy recalls. Greg was definitely ready for a face-to-face with Neicy. "We had talked, and video chatted for a couple of months," he says. "She lived in Wisconsin, and I'm in Indiana. We got along so well that I asked her to meet me in Chicago and go to Del Frisco's steakhouse. I knew she loved good food."
And who doesn't? Happily, Del Frisco's lived up to its reputation. "The dinner was just amazing," exclaims Neicy. Greg nods in agreement. "Best steaks in the city at the time!"
Even beyond the quality of the cuisine, this first date went exceedingly well. "He was so kind, charming, and sweet," Neicy gushes. Greg was quite taken with her as well. "She was funny," he remembers now. "And even more beautiful in person. She ended up being so sweet, with a great heart."
We asked the couple if there were any memorable surprises that night. "He was very nervous, and I couldn't understand why," laughs Neicy. "I said to him, 'just be yourself!'"
To this day, Greg remembers it clearly. "I was a tad nervous," he says with a rueful smile. "And I was hot, with a suit jacket on. I started to sweat a little… She grabbed a napkin and wiped it off. Told me to relax and be myself. I found that to be pretty sweet and real."
Despite Greg's endearing case of the flop sweats, Date No. 1 was deemed a big success. So much so that the pair immediately made bigger plans… "We went to Costa Rica two weeks after meeting each other," announced Neicy. "We wanted to spend as much time together as possible!"
Greg explains how they decided on taking this trip together. "Well, we had gotten to know each other over the two months of talking," he says. "So I asked her if she felt comfortable going to Costa Rica in a few weeks. I was already going, and it was her birthday week. She said yes, and the rest is history!"
Indeed, their time in Costa Rica cemented the connection for Greg. He remembers being impressed by Neicy's up-for-anything attitude. "She was adventurous," he observes. "We went ziplining, and here she comes, upside down over a waterfall on the zip line...on purpose! I love adventure too and knew she would go anywhere I'd go."
Even so, there were hurdles to overcome in this couple's path to the altar. "I had to let my guard down and let Greg love me," confides Neicy. "I had to put my past hurt from different relationships behind me. He gave me hope again!"
Neicy being ready to open her heart to new love was just one question for them to answer. There were others, as well. "We lived 2.5 hours apart," Greg points out, citing distance as the main challenge for him. "People might think our 25-year age gap or our different races might be an obstacle, but that actually wasn't the case with us."
These issues failed to stop the pair's progress. But when the day came for Greg to propose, it wasn't exactly as he'd imagined it… "We were actually in our bedroom," he laughs now. "Trust me, I wanted to propose at the restaurant where we first met, but they had closed down [that location]. I couldn't wait anymore! So I got down on one knee and asked her to marry me."
Neicy's reply was a joyful "yes." Now that they're married, it's time to reflect on all the couple can share in the years to come. Greg definitely feels like he's met his match. "She was exactly what I was looking for: feisty, fun, and enjoys life. Humor plays a big part of our relationship."
Neicy has no complaints, either. "I really just wanted to meet someone with a kind heart," she says. "He was beautiful on the inside and out. I appreciate how caring he is and how he treats me and others."
Neicy advises that all the singles reading this "take a chance. I never in a million years thought I would be this happy!"
Greg wants you to follow your heart, even if others advise the opposite. "I had friends bustin' my you know what," he chuckles. "Telling me I was shooting too high… But, NEVER let someone tell you that you can't achieve any goal you set for yourself. I proved everyone wrong and have a beautiful family now because I did what I wanted... not what others thought."
What he wants now are many happy years with his wife and daughter.
12 responses to "A Taste for Adventure"
Leave a reply
You must be logged in to post a comment.