Things to do in LA on Valentine's
Posted by Ria, 13 Jan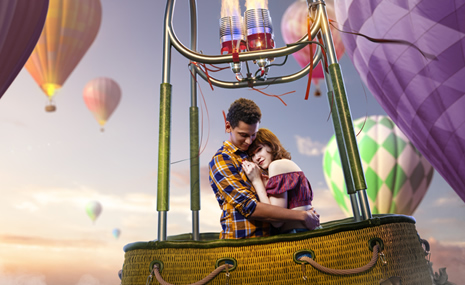 We are just a month away from Valentine's Day. When it comes to coming up with ways of spending this long-awaited day, especially by couples, everyone has planned their own things to do for Valentine's Day in Los Angeles. Now, if you have stumbled across this article, chances are you are still looking for alternative ways to impress. Well, let's see some of the options that we have suggested for you…
5 Valentine's Day ideas Los Angeles
Find your soulmate on AfroRomance










Spend Valentine's Day night at a drive-in
If you thought that drive-ins were a thing for the black-and-white movies time? Think again. Drive-ins are fashionable again! This is the perfect way to experience a movie date the old-timey way. So if you have no plans for the evening, instead of putting a romcom and lumping yourselves on the couch, check out what is playing at the various drive-ins on Valentine's Day LA.
Float above LA's countryside in a hot air balloon
Just imagine the two of you up in the clouds, defying gravity as you glide above the scenic landscapes as you enjoy the breath-taking views of the California countryside, especially the Perris-Temecula Valley! If one or both of you are first-timers, this will be one of those things to do in LA for Valentine's Day whose memory will be forever imprinted in your minds… and hearts. Try the Adventure Balloon Rides and enjoy snacks before take-off as you watch skydivers do their thing.
Have a candlelight picnic on a Santa Monica beach
A candlelight picnic is one of the things to do for Valentine's Day in Los Angeles that will for sure blow the mind of the person you are planning on impressing on this day of love. These picnics are luxurious courtesy of the beach setting. You could book your picnic with the Santa Monica Picnic Co and let them assist you to treat this special someone by providing you love buds an elegant picnic experience as you enjoy the beautiful beach. You will get a picnic experience and more - delicious meals, umbrellas, flowers…. And guess what? They will even throw in cozy blankets so that the two of you can create unforgettable memories this Valentine's Day (wink).
Take a hand-in-hand stroll through a botanical garden
What comes right at the top of the head is The Huntington. If you feel that your partner is someone who appreciates all things green… and red of course then taking him or her to this stunning garden will nail your Valentine's Day Los Angeles 2022 plans. This beautiful garden sits on 120 acres of land that is lined up with roses, palms, native plants, and lily ponds.
Much as it might sound like a cliché, what is Valentine's without roses? Well, at the Huntington Library's rose garden you will have a memorable and picture-perfect experience. You and your special someone can take pictures with the backdrop of rows and rows of vibrant petals. Plus, the rose flower smell is just refreshing. Stop, sniff and snap that selfie! And don't forget that romantic desert getaway experience at the desert garden.
Just take a scenic drive and enjoy LA
So, you were a little late in making a reservation at your favorite restaurant. Does that mean that Valentine's Day is lost? Sometimes the most enjoyable and most romantic moments are the simplest and spontaneous ones.
One of the spontaneous things to do in LA for Valentine's Day which only requires you to have enough gas in your car is telling your beau to get into the car and just driving off. Soak in the beauty that LA is by cruising along the beach, through a canyon, or heading up to the mountains.
Make sure you have a playlist of great music that you and your special one love to jam to. If it's a day-long affair, carry some snacks too. One of the suggestions that we have is a trek into the San Gabriel Mountains to see the snow. And if you are not feeling the vibe of you and your beau being crumped in a cabin the whole night, consider Malibu drive or Palos Verdes and soak in the refreshing and renewing breath-taking views. That's a mini-vacation right there!
Responses to "Things to do in LA on Valentine's"
Be the first to leave a comment
You must be logged in to post a comment.