Another sad incidence where being black in America is a death sentence
Posted by Ria, 27 May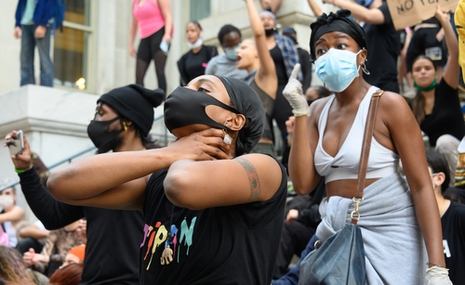 Photo credit: noamgalai / Shutterstock.com
It is sad to see how a cop can enjoy 10 minutes of pinning someone down to death! That is how George Floyd, a 46-year-old black man met his death on Tuesday, on the streets of Minneapolis.
Find your soulmate on AfroRomance










Four Minneapolis police officers have been fired over the incident where a white cop kneeled on the neck of Floyd as he cried out that he could not breathe. Bystanders also asked the cop to release him from his hold. But after minutes of pleading with the cop who was pressing his knee on the back of his neck, Floyd appeared motionless, eyes shut...
The incident has been trending on social media, drawing lots of condemnation worldwide as hundreds matched to the streets of Minneapolis in protest. Most of the protestors were wearing face masks that read "I can't breathe" as the chanted near the site where this gruesome incident happened. Some motorists also honked in solidarity.
In a statement about the firing of the four cops by police Chief Medaria Arradondo, Mayor Jacob Frey said: "I support your decisions, one hundred percent" saying that the method used to pin Floyd's head to the ground was against the regulations of the police department.
Mayor Jacob Frey has said the technique used to pin George Floyd's head to the ground was not permitted by department regulations adding that it is not a technique the officers are trained on
"There is no reason to apply that kind of pressure with a knee to someone's neck."
Civil rights attorney Benjamin Crump said in a statement:
"We all watched the horrific death of George Floyd on video as witnesses begged the police officer to take him into the police car and get off his neck. This abusive, excessive and inhumane use of force cost the life of a man who was being detained by the police for questioning about a non-violent charge."
Its the lack of humanity that is really disturbing. Floyd cried for help. He said he was hurting... And this officer just had to press on!!! Just being fired isn't enough justice. These officers should be held accountable appropriately! A man died! His life matters!
17 responses to "Another sad incidence where being black in America is a death sentence"
Leave a reply
You must be logged in to post a comment.