Black-ish goes interracial
Posted by Ria, 03 Jul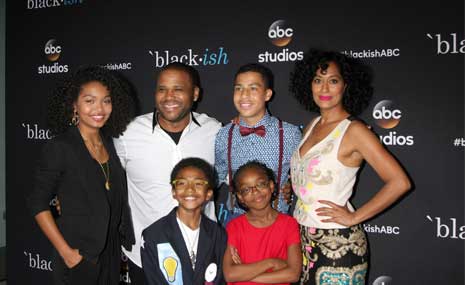 credit:  / Shutterstock.com
A look into mixed dating by the world-known series
Find your soulmate on AfroRomance










There are families that have issues with interracial dating. And the Blackish TV show seems to be one of them.
The thing with this show is that the mother, Bow, played by Diana Ross' daughter, Tracee Ellis Ross is biracial. The husband, Dre, is black, played by Anthony Anderson. Going by the traditional 'one-drop rule, typically, this is a black family. But seeing as the wife is biracial, I am guessing it's the reason they chose 'Blackish' to be the name of the show.
Enough about the show
Moving on, on this particular Blackish episode, the family is forced to deal with the identity crisis. Their son, Junior starts dating. Well, as any black family, they expect the first girl he is dating to be black. However, the first girl Junior brings home is white.
This particular episode is dubbed "Being Bow-racial". The thing is, Bow isn't sure about how she feels about her son, bringing Megan (the white girlfriend) home. She even tries to deny that she is bothered about her race.
Colorism exists and will never seize to exist
The thing with the issue of colorism is that most of us claim we don't see color. And Bow is just like the rest of us. But this particular show makes us see and define colorism. And her husband, Dre, is thrilled that his wife is finally seeing the reality of the racial dynamics of the United States.
Mixed race dating is on the rise. I mean, if Bow herself is mixed, one wonders why the son's biracial dating threw her off. How does one even begin to explain such a scenario? Well, in America, even a drop of black blood in your system makes you black. So, on the show, she definitely considers herself black.
The thing with living in a country that has such a colorful mix of races is that people usually feel they are OK with biracial dating. Until it lands home. And that's when it hits you: "Crap! Why is it bothering me?" Well, this happens to most of us; even interracial moms.
People would think that being an interracial mom, Megan's whiteness would have been a non-issue. This episode showed Bow in the light where she had to explore herself where race is concerned. And the Blackish review for this show highlighted the complexities of race in the country.
Well, people believe black women hate interracial dating. That's just a myth. The issue is, people have centered their stories and articles around black women interracial dating.
What the episode's subliminal message is really about
This episode wasn't about interracial dating. It was about navigating through racial identity. And this is something most mixed race individuals have to grapple with. We even see Bow crying over her son's preference for an interracial girlfriend.
Well, this is a biracial woman who has always considered her children black. Even Dre admits on the episode to have considered his daughter to be a black woman. So, her reaction to this made sense. And the comments about this episode were off the hook.
What I love about such shows is the inclusion of biracial actresses into the mix. And going by the #OscarsSoWhite movement, most film producers and directors are under the pressure of being more diverse and more inclusive in their selection of characters.
We now have the first star of the Bachelorette who is Black. And the way things are going, she will probably end up with a white mate.
From monochromatic to mixed!
Anyway, this is America's reality. America is moving from black andwhite to mixed. And real interracial relationships are being formed which are devoid of stereotypes and fetishes.
The rise in interracial dating sites is making all this easier. You can find a biracial dating site by just using Google search. For instance, you can go type" Interracial Black Girls" and voila… The sites catering to interracial dating get displayed. And since most of them cater to people all around the world, opportunities have opened up for interracial daters. They are not limited to race or location.
Whether we like it or not, we all need to have the conversation about race. It's important. It's necessary. Even people who are married to or dating interracially find themselves cringing over the thought of their children dating across racial lines. And acceptance is the first step to dealing with this.
I am glad that Blackish had this interracial episode that got people reflecting and taking…
1 responses to "Black-ish goes interracial"
Leave a reply
You must be logged in to post a comment.