Black women marry interracially because they are ugly?
Posted by Ria, 18 Feb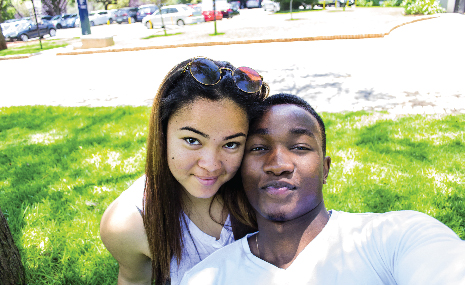 "Look at her. She looks like a man. Of course she married a white boy"

"Horse Face! Nobody wants you, you ugly dark-skinned b**ch!!"
These people are real comments that our very own Christelyn Karazin highlighted in her article: My True Confession: I Advocate Swirling Because I Was the Black Man's Cast Off. These are comments made by black men.
Find your soulmate on AfroRomance










Her whole life, Christelyn has been called ugly. And when she spoke openly about it in a YouTube video, saying she "really didn't embrace [her] beauty until it was validated from external forces", she stepped on some black man's toes who calls himself called Sergeant Willie Pete. "... in the Sergeant's mind, my 'swirling advocacy' is an 'ugly girl's argument.' I only swirled in the first place because no black man was checking for me... too dark to be the prize," she says
And Christelyn agrees saying "He's Right!"
Funny enough, after marrying a white man, quite a number of black men (and to her surprise, black women too) say they look at her and get why she advocates swirling. I am thinking, do black women who date out have some "swirl face"? Is swirling for a black woman automatically saying "too ugly for a brotha"?
So if dark skinned women are too ugly, why are they dubbed "sell-outs" when they date out... when they date men who respect, love and find them beautiful? Its like these people are trying to say: 'Since you ugly women aren't good enough for us, sit and wallow in self pity and loneliness forever. You don't deserve no man. And when a man from a different race says they find you attractive, dont date them. You are ugly no matter what they tell you. Dating them is a crime.'
Well, here is why Christelyn advocates swirling:
"BECAUSE I DON'T WANT WOMEN WHO LOOK LIKE ME TO FEEL LIKE THEY DON'T DESERVE TO BE LOVED, MARRIED* AND RESPECTED. (*If they so choose)"
And she has a very great message for black women who choose to swirl:
You are not wrong to flee those who hate you and gravitate to social circles in which you are accepted and celebrated. It is not a sin to love those who love and respect you.
WORD!!!!
109 responses to "Black women marry interracially because they are ugly?"
Leave a reply
You must be logged in to post a comment.