Effects of interracial marriages on children
Posted by Ria, 26 Jun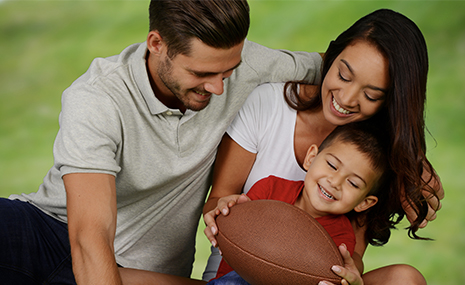 They are a growing demographic thanks to interracial relationships. There is more than 7 million of them in the U.S. alone (… and still counting of course). These are the Tiger Woods, Halle Berrys and the Obamas of the world... then there is Ria of course ;-) . Their success and great social adjustment has changed the society's view on interracial children.
It is not uncommon for most people look at mixed race children and think wow! Now that is one beautiful offspring. My sister is one of the people that adore looking at interracial children. And I think it is a good thing to hail the beauty of interracial fusion that is brought about by mixed race individuals until in some blog, they gave a comeback to "Mixed babies are so cute" which was "Aren't all babies?" Question is: Is there more than meets the eye? Do we think about what the experience of being raised in an interracial context might entail or does the thinking stop at "cute"?
Find your soulmate on AfroRomance









Well besides people touching your fuzzy hair, and mothers asking how to take care of such hair, there are more serious effects of a child being interracial … the usual being categorization and racism. Which group does she belong to? Racial identity, a product of racial prejudice, is something these kids need to deal with. Apart from the usual name-calling (Oreo! Zebra! Mutt!) some of these kids themselves are never sure where they fit especially with black-white biracial kids - Blacks don't see you as Black enough; Whites call you black coz of fuzzy, unruly hair. Having come from more than two racial groups, I remember once, my Italian pal had a party which I never got invited to coz my skin was too dark. Might seem petty but for teenage kids, such things really affect them.
There are social and even psychological effects that can arise from not seeing yourself like a full member of any particular racial group… especially in areas where race still matters. There is nothing as bad as someone asking your parent if you were adopted! Look at president Obama for instance. People are going to the extent of politicizing his mixed-race upbringing; some calling it "an insufficiently integrated identity".
In the review of Janny Scott's 'A Singular Woman: The Untold Story of Barack Obama's Mother (2011)' dubbed: Transition - "Tense and Tender Ties" Cornel West thinks this of him:
"As a young brother who grows up in a white context, brilliant African father, he's always had to fear being a white man with black skin. All he has known culturally is white... When he meets an independent black brother, it is frightening ... Obama, coming out of Kansas influence, white, loving grandparents, coming out of Hawaii and Indonesia, when he meets these independent black folk who have a history of slavery, Jim Crow, Jane Crow and so on, he is very apprehensive. He has a certain rootlessness, a deracination. It is understandable."
Looking back, most white women had to give up their mixed children for adoption because they had feared anticipated costs of raising biracial children and the diminished lives they had expected they and their kids would endure within a white community. Luckily, in the world we know today, mixed race kids can feel lucky they belong to more than one culture. They see it more as a heritage that makes them unique because kids of this generation rarely use skin and hair texture as the criteria to "belong". One Phoebe Hinton expresses this freedom to just be in the Yale University blog saying: "I am lucky enough to have an excuse flowing in my veins to do whatever … I want: there are some things white people do and … I'll do them. There are some things black people do, and … I'll do them. Pretty much the only thing people won't accept me doing is continuing to identify as neither black nor white, but an amalgam of the two."
But much as these kids don't face discrimination in school, according to a study The Plight of Mixed Race Adolescents by Harvard researchers on Black/White "mixed race adolescents engage in substantially more risky and anti-social behavior than either blacks or whites, especially outside of school" and "also fare somewhat worse on measures of psychological wellbeing." As per this research, its all because of "being held to tougher standards by both peer groups. That is they need to engage more in risky and anti-social behaviors to gain acceptance."
Besides the effects of prejudice, mixed race individuals have a hard time finding a match for blood cells. According to an article on TheProvince.com, their odds, one in a million, literally. "Simply put, as interracial marriages increase, the supply of mixed-race blood, which must be gathered from adult donors, is lagging far behind the demand from a growing pool of mixed-race children."
The thing is, in an era where interracial coupling is growing acceptance it's easy for an interracial couple not to think about the racial identity of their children or anticipate problems they might encounter because of the faith they may have in the fundamental change in society. But after years of her being raised in an environment in which race neither defined them or how they viewed others, on the eve of his graduation from Harvard Law School, Obama had "chosen to take on a really strongly identified black identity." And even today, more and more mixed race individuals (especially black/white) still follow the same trend.
Much as we'd all love to shove it under the carpet, race does matter to parents and children of mixed race children. That is why when a black mother with her white-looking kids is asked if she is baby sitting, she flips. That is why Ann Dunham was uncomfortable with Obama's choice to identify as black... she realized then that no matter all her efforts to move beyond racial reductionism, all along, race had mattered in his son's life.
Question is: When interracial parents refuse to consider racial identity of their offsprings, (even though well intentioned) are they in denial or naive to believe race wont matter? And even if they stop to think about it, do we expect them to sacrifice their love or not have kids? Do you think its selfish of interracial couples to have kids, knowing too well their kids might have to endure racial prejudice?
42 responses to "Effects of interracial marriages on children"
Leave a reply
You must be logged in to post a comment.