How to Set Up Your New Home With Your Partner
Posted by Ria, 25 Oct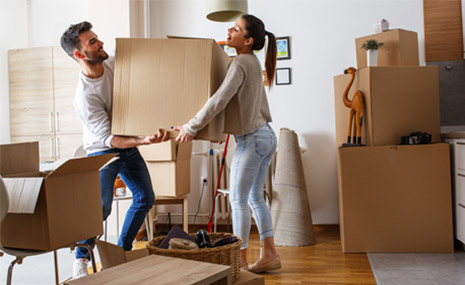 You've decided to take the plunge and move in with your partner. You're both excited and nervous about this new stage in your relationship. Do your best to make it a smooth transition with the following tips:
Take Stock of Your Possessions
Find your soulmate on AfroRomance









Before you pack boxes and hire movers, look at what you and your partner own and what will fit in your new space, Moveline suggests. Start with your large pieces of furniture to see what you want to keep and what can be donated or sold. Choose the couch, bed, dressers and entertainment center you want to move into your new place. You also should take a look at your dishes, pots and pans, desks, bookshelves, and art. Make a list of what is going to your new place together and what isn't so nothing gets mixed up in the moving process.
Pro tip: Moving is stressful and emotional. Make sure you have open communication with your partner about possessions that are important to you or have sentimental value. Be willing to listen and compromise with your partner so no one's feelings get hurt.
Go Shopping Together
Even though it may seem like you have more stuff than you can handle once you combine your possessions, you're still going to need new things for your home together. Instead of one partner making all the decisions, go shopping together for everything from a toaster to decor, A Practical Wedding says. Even if you're not super interested in home design, part of the fun of moving in together is making space fit your personality as a couple. You both should feel comfortable and at home in your new place, and that comes from choosing the items you both like. Make a shopping date to get all of the items you need for your home and have fun browsing through the aisles together.
Create Separate Spaces
One of the best benefits of moving in together is that you get to spend more time together without having to coordinate schedules. However, you both need some alone time. If you have more than one room in your new home, make the extra room a place where you each can go to do your own thing. Whether you need a space to work, read, watch TV, exercise or relax, it's important that your partner knows when you need some time to yourself (and vice versa). When you're moving in furniture, decide how you want to set up some separate spaces and what you like to do by yourself. Having this open conversation ahead of time will cut down on a lot of squabbles in the future.
Don't Forget Security
Even though you may feel safer living with your partner, you shouldn't be lax on your home security. According to FBI data, one in 36 homes are burglarized every year. Not only do you not want to deal with damage and stolen property, but you want to feel secure and protected in your home. TechRadar suggests using Lorex's home security system to protect your home. Lorex's wireless cameras enable you to put them up higher and in out-of-the-way places without having to pay for expensive cabling or worrying about a poor picture. They have a high resolution and Wi-Fi capabilities so you always feel safe and secure in your new home.
Moving in together should be fun and exciting. Work together to make your new place one of a kind, and maintain open communication channels to have a positive experience.
1 responses to "How to Set Up Your New Home With Your Partner"
Leave a reply
You must be logged in to post a comment.