How Zara Larsson's Twitter crush turned in to romance
Posted by Ria, 10 Jul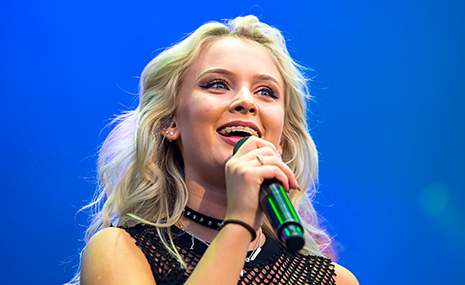 Credits: Shutterstock
Do you believe dreams come true? Would you believe it if I told you the man of your dreams is just a tweet away? Well believe of not, this happened to pop star Zara Larsson.
Find your soulmate on AfroRomance










See, over a year ago, Zara saw a hot model's picture on Twitter. the model was none other than Brian H Whitaker. Going by the tweet, this Brian had taken her breath away and she couldn't resist expressing herself in the tweet that read: "Who are you where do you live how old are you why are you so fine how do you like your eggs cooked in the morning?"
Well, I will have you know that Zara found out just how he likes his eggs cooked since Whitaker and Zara are now a couple. This makes us kind of believe in the law of attraction. If you want something bad enough, think about it long and hard. Or just tweet about it. Plus, who can resist such a declaration of being smitten? Clearly, Whitaker couldn't. And we all agree he is fine AF right?
All this was discovered and brought to light by Zara's fan whose Twitter handle is @samilarsson,
Zara Larsson won the game y'all pic.twitter.com/bFnkflHXD6

— samiㅤ (@samilarsson) June 17, 2017
And in case you were wondering, Zara's beau loves his eggs scrambled. So what the hell are you waiting for? Get your tweet on...
Another photo of Zara and Brian at Wireless Festival pic.twitter.com/PfaKN7cMfr

— Zara Larsson Online (@ZaraLOnline) July 8, 2017
3 responses to "How Zara Larsson's Twitter crush turned in to romance"
Leave a reply
You must be logged in to post a comment.