Kim Kardashian and Pete Davidson break up!!
Posted by Leticia, 08 Aug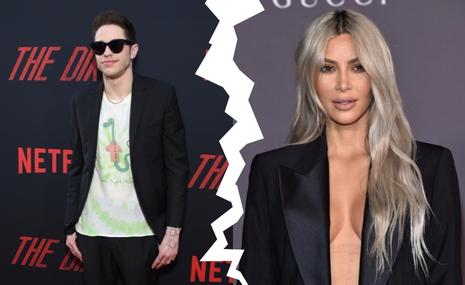 Bad news for anyone who shipped Kim Kardashian and Pete Davidson as a couple, as it's just been revealed that they have broken up after nine months of dating!
According to reports, the 41-year-old SKIMS founder and the 28-year-old former Saturday Night Live comedian called it quits sometime last week, blaming time apart and distance for the split…
Find your soulmate on AfroRomance










The couple have "a lot of love and respect for each other," a source told E! News, but their extremely busy schedules "made it really difficult to maintain a relationship."
Pete is currently in Australia filming Wizards!, while the mom-of-four has remained in the US with her and estranged ex Kanye West's four children; so we're not surprised to hear that they have found it difficult!
Although one insider said that the split was very amicable and they intend to remain good friends, another insider had a totally different story, alleging their age difference was turning out to be a big problem, and Kim was "exhausted" by the relationship. Yikes!
"Pete is 28 and Kim is 41 — they are just in very different places at the moment," another source told Page Six.
"Pete is totally spontaneous and impulsive and wants her to fly to New York, or wherever he is on a moment's notice," they added.
"But Kim has four kids and it isn't that easy. She needs to focus on the kids."
The source then went on to say that Kim was "totally exhausted by this relationship and other things going on in her life," while also alleging that Kanye – who officially changed his name to Ye – hasn't made it easy…
"When Kim is with someone else, Kanye can cause problems with the kids. He tries to divide and conquer. He can't help it," the source added.
"Kim is a really dedicated mother, and her kids will always come first. She wants and needs harmony at home and in her life."
We're just as shocked by their break-up as we were when we first found out they were dating – who's with us?!
And do we think that Kim and Pete will get back together, or is there a bigger chance of her reuniting with Kanye?
Responses to "Kim Kardashian and Pete Davidson break up!!"
Be the first to leave a comment
You must be logged in to post a comment.