Kim Kardashian slammed for straightening five year old North West's hair
Posted by Ria, 19 Jun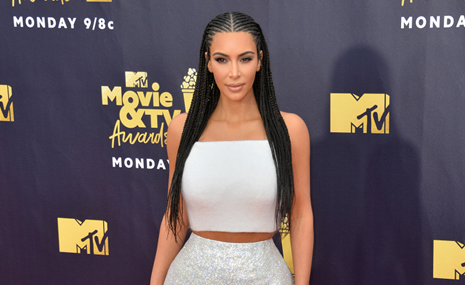 Photo credit: Featureflash Photo Agency / Shutterstock.com
Kim Kardashian – who is no stranger to being mommy-shamed – has once again angered the internet, this time for straightening daughter North West's hair.
Find your soulmate on AfroRomance










The five-year-old was spotted rocking a sleek, straight Ariana Grande style ponytail while out and about in New York… and the internet had a lot to say about it.
Critics were particularly confused over Kim K's choices, as the reality TV star turned global businesswoman spoke of how proud she and North are of her naturally curly hair, and how hard they try to embrace it.
Kim even famously took hair styling lessons to learn how to braid black hair and how to style her daughter's naturally curly locks…
"She's obsessed with her curly hair, and if she finds someone who has the same hair, she runs to them and is like, 'You have curly hair like me?' And we get to talk about it," she previously told Interview magazine.
The race aspect
The thing is, there is a racial aspect to all this.
We have all heard of the European beauty standards. Even at workplaces, black hair has been considered "unprofessional and unkempt". So some people have been forced to straighten their hair so that they don't suffer consequences that come with it.
Looking at it that way, people might argue that Kim is trying to make the child look more white. That way, she can get to enjoy the privileges that come with being white.
Cue the social media criticism…
@_vivrantthang_

I really hate how the kardashians keep straightening that poor baby's hair tho. North west gonna have heat damage before she's 10- before I even knew what a straightener was smh

Tiss'Challa @NaturallyTiss

North West is still a baby and has straight hair. I know we all had straight hair too at that age but it's 2018! The enlightened YouTube era! Come on KimberYe get it together

@Chibambo

People going on about how "f**king gorgeous" North West is now that her hair has been straightened.
As always, there has also been a lot of support for Kim Kardashian and her parenting choices too…
@KIMWESTSOURCE_

Kim has taken such good care of North's curls over the years. The comments about North's hair being straightened is tired. First of all, mind your own children

@TameeraC_

North West with straight hair, so cute! she looks like. Different person
Where do you guys stand on the North West straight hair drama?
18 responses to "Kim Kardashian slammed for straightening five year old North West's hair "
Leave a reply
You must be logged in to post a comment.