Men love dating older women - but why?
Posted by Ria, 24 Jul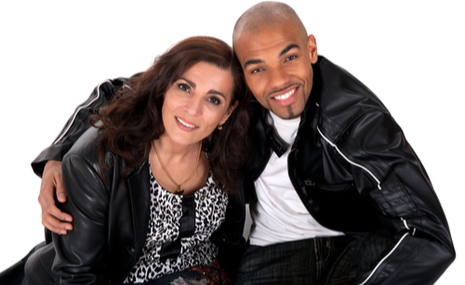 There are quite a number of men who are dating older women. So if you are attracted to an older woman and you are having reservations about dating her, you need to stop that line of thinking. When the Aaliyah sang "Age ain't nothing but a number" she knew exactly what she was talking about.
The thing is, there are lots of great benefits that come with being with older women. Want to know what some of them are? Then scroll on to find out why...
Find your soulmate on AfroRomance










Benefits of dating an older woman
Whether we like to admit it or not there are benefits that come with dating mature women. So let's just dive in and explore some of them:
Older women enjoy the company of younger men.
There is a reason why celebrities like Tina Turner, Halle Berry, Kris Jenner, Jennifer Lopez, among others have experienced dating a man 10 years younger - even more in the case of Kris and Tina Turner. Women are breaking the old barriers and old way of thinking (that for a relationship to work, the man needs to older than the woman." These days just as it's pretty common for men to date younger women, so is the opposite.
For a more mature woman, it can be very flattering when a younger man approaches you and passes up on women his own age or younger. Even if one has reservations, its the thrill and the flattering that makes one take the chance. I mean, who doesn't want the attention of a younger man making you feel sexy?
Now, since we have established that older ladies enjoy the company of younger men, they usually give the same attention to the younger men in return. And this combination of reciprocal attention is one of the reasons why we see more men (not those who behave like boys) dating older women. And the reciprocal attention both sides feel, make the relationship flourish.
The tastes are more refined
Imagine taking a break from the clubbing that you are used to and spending the night listening to jazz or taking a weekend to go wine tasting. Everyone needs a break from their normal activities once in a while. And such low-key environments can do that for you. Now, if you are dating an older woman, you will definitely be exposed to finer things in life. This exposure makes the man shine when he is with peers his own age.
Now, older women on the other hand like letting loose once in a while. So she will also enjoy your wild clubbing and partying adventures too. Who doesn't to feel young at heart? The younger man will always let her get out of her comfort zone and show her that other environments can be fun too. 
They know what they want and go for it!
They have been around the dating scene longer than younger women. So after enough trial and error, most older women know what they want and are less likely to play games. So if she is falling for you, she will follow her desires and go for it.
Younger men like this because they can be more direct about their own intentions and desires too. So if you want to have sex with her, when you ask her to go back to your place, believe me, she knows you are not asking her that because you want to watch a movie with her.
They are more experienced and bring different perspectives to the table
When dating a girl that is older than you, more likely than not, she will have more experience in dating and the bedroom. So you will get to learn a thing or two. This doesn't mean that you just sit there and wait for her to make the magic happen. Take the lead and build that sexual tension and show her you are willing to go all the way. Then let the learning begin...
Besides the bedroom, dating older women gives younger men the opportunity to grow because both of you have different tastes, plus she is more exposed to matters life. Younger men who are open-minded pick up a lot from the mature women in love with them. The relationship gives them great exposure and different and a more mature perspective to life.
They are more mature
I am not saying that younger women are immature. There are those that show more maturity than some older ones. But having more life experience, when they are falling for you, older women tend to be more emotionally mature. They have been through a number of dating experiences making them less reactive and more in control of their behavior and emotions. Don't mistake mature women to women who don't like having fun. That playfulness that works on younger women works with older women too. They like the fact that you are pumping some fun into their lives. That playful banter is one of the signs a younger man likes an older woman. So use that playful banter when dating older women too. All women in love enjoy some playfulness.
If you are thinking about it, stop overthinking things. Why not date an older woman and enjoy the benefits that other men are already. Don't let her age intimidate you or stand in the way of your happiness. Just be a man about it and just do it.
For more tips and advice on dating women visit Afroromance.
10 responses to "Men love dating older women - but why?"
Leave a reply
You must be logged in to post a comment.