Protests erupt in Philadelphia as black man is shot by police
Posted by Ria, 28 Oct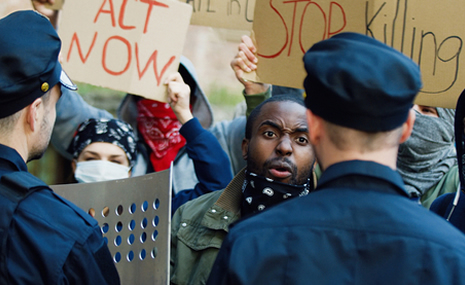 We are back at it again… fresh protests against racism and police brutality. Hundreds of people have been on the streets of Philadelphia, for a second night now, protesting the fatal shooting of a 27-year-old black man, Walter Wallace.
The protestors convened at a West Philadelphia park on Tuesday night, matching and chanting through the neighbourhood, demanding the names of the police officers who shot Wallace.
Find your soulmate on AfroRomance










As the story goes, on that fateful day, the Wallace's family had called 911 requesting for an ambulance and medical assistance to help their son with a mental crisis. But the police showed up, even when they hadn't requested for police intervention.
The police said that they fired the shots because Wallace had a knife and had ignored the orders to drop 'the weapon' on Monday afternoon..
The demonstrations came after Wallace's parents said that the police officers who opened fire knew that he was dealing with a mental crisis because they had been called to the house three times, that Monday. According to the mom, Catherine, in one instance, the police just stood there and laughed at them.
In his statement, the Wallace family's attorney, Shaka Johnson, saying: "When you come to a scene where somebody is in a mental crisis, and the only tool you have to deal with it is a gun ... where are the proper tools for the job?" According to Johnson, the police officers are not well equipped to handle mental health crises.
The police claim that they were responding to a report of a person with a weapon. They fired multiple shots (more than 10 times) on a residential street, bringing Wallace down in front of horrified bystanders.
According to the video footage, the police made no attempt of containing the situation. Instead, they went straight to killing Wallace in front of his family. Come Tuesday afternoon, the video had hit one million views.
The protests that erupted have been violent with cars and dumpsters being set on fire. In the process of trying to contain the crowd, some officers were injured.
Much as investigations are underway, the video footage leaves most of us with difficult questions – questions that will be very hard to answer definitively – questions that MUST be answered.
Responses to "Protests erupt in Philadelphia as black man is shot by police"
Be the first to leave a comment
You must be logged in to post a comment.