Advice to Make Your Partner Feel Safe at Home
Posted by Ria, 13 Mar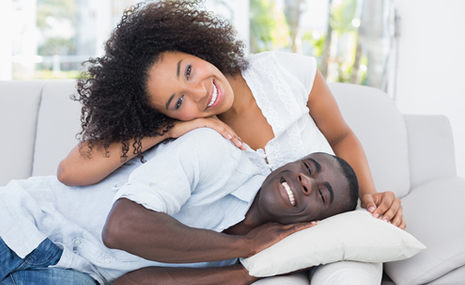 Every noise that goes bump in the night can be interpreted as a break-in or suspicious activity, especially when you're home alone. That's why it's important to make your loved one feel safe while they're at home and you're not. To create a secure home for you and your partner, follow these tips.
Keep the Lights On
Find your soulmate on AfroRomance










Panicky feelings can be avoided by turning the lights on. When the sun goes down and it gets dark, make sure your partner closes up all the windows, curtains and blinds and turns on the lights inside and outside the house. Lights can keep criminals away, and give your partner a sense of security when they are home alone.
Be Available
It's not always possible to pick up the phone when your boyfriend or girlfriend calls, but one way to make your significant other feel safe is to be available. Being present is key to all relationships, and part of being present means being there when they need you. Sometimes not picking up or responding to a message can send us into a panic. Be sure to respond to texts, call to check in and video chat if you're away on a trip. Doing all of these things can strengthen your relationship and make your loved one feel safe when you're away from home.
Get a Dog
Thinking about adopting a family pet? Studies have shown that dogs can help people cope with depression, stress and anxiety. They are not only loyal, but they can make us feel safe, too. Breeds like German Shepherds are often trained as guard dogs, but they also make great family pets. If there's a stranger approaching the house, most dogs will bark and growl, and in many cases, a their bark can scare away likely intruders and threats. While a family pet isn't an answer to all of your home security needs, a canine companion can be a comforting addition to your family.
Install Home Security
Would you believe that 30 percent of all home burglaries are through an open window or door? It's true. The FBI says that home break-ins are the most common threat to our homes. Keep your partner feeling safe by installing a home monitoring system. This will give your loved one a sense of security, and studies have shown that criminals are less likely to target homes with security systems. HD surveillance cameras inside and outside of the home can make a big difference when it comes to feeling safe.
Take Self-Defense Together
A self-defense class can teach you and your partner the basics of protecting yourselves. Many times, these classes are held at community centers and are very informational. If the worst happens while your partner is home alone, you'll want them to be prepared. Taking a class like this together can also strengthen your relationship by giving you the chance to rely on each other and learn something new together.
Know Your Neighbors
Neighbors are a great resource for your home's security, so it's important to make the effort to know them. If both of you are out of town, neighbors can keep an eye on your house and report any suspicious activity to you or the authorities.
Responses to "Advice to Make Your Partner Feel Safe at Home"
Be the first to leave a comment
You must be logged in to post a comment.