Black-White dating: Are White women threatened by the Black woman?
Posted by Ria, 22 Apr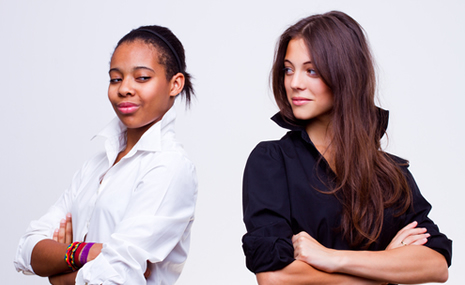 Everyone is insecure about something. And when it comes to relationships, insecurities range from the pettiest things to some real deal breakers. When talking about Black and White interracial relationships, people have covered widely what the Black men and women feel about being in intimate relationships of this kind. However, very little has been covered about White women and their interracial relationships with Black men.
While carrying out her research in the early 2000s, blogger Deborah Cooper interviewed 100 Bay Area White women in interracial relationships with Black men; with one of the interview questions being... "What is your biggest fear about this relationship?" And to her surprise, all 100 of them replied "her man would leave her for a Black woman."
Find your soulmate on AfroRomance










I found this rather strange coz I would think if your man is attracted to you (a white women), you would be insecure that he might leave you for a woman who looks something like you and that is another white woman. Well this wasn't the case hear.
If this fear is real, what might be the root cause? Is this fear out of admiration for the dark silky beauty and sexy curvaceous features of the Black woman? Is this fear out of intimidation by the Black woman for being of the same race as her man? Does she believe in the popular adage: "Once you go Black you never go back?"
Much as the Black woman is portrayed by a few Black men and media as being emasculative, ugly and non-wife material, this apparent insecurity of a White woman says a lot about the Black woman – That she is not what the media has portrayed her to be; that she is a force to recon with; that if she possesses qualities that the White woman finds threatening, then these qualities must be sky-rocketing high.
Look at it from the point of view of standards of beauty… they are changing. Being buttier and burstier, being full lipped and darker… this is what's sexy now. So if men of all races want that by their side, who wouldn't be threatened? Question is: Do Black women in interracial relationships with a White man share the same insecurity: that he will one day leave her for a White woman?
38 responses to "Black-White dating: Are White women threatened by the Black woman?"
Leave a reply
You must be logged in to post a comment.