What to look for on a First Date
Posted by Ro571, 02 Aug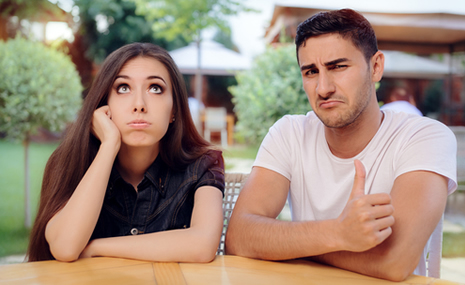 You're excited (and maybe a bit nervous) to be going out on your first date with someone new. Before you go, consider this list of things to look for—some are promising indicators of a great connection in the making, and others can be reason to make the first date your last.
Red Flags
Find your soulmate on AfroRomance









How much money do you make?
If your date seems interested in your income, even without asking point blank, consider this a warning sign that they might be too materialistic. At this stage, your personality should be more interesting to them than your bank statement. Even if you have plenty of money, you don't want to date someone who's too concerned with how much you have and what you do with it. Guys, unless she's an auto enthusiast, asking what kind of car you drive is a dead giveaway. Ladies, it's okay to want a potential provider, but be classy or risk seeming like a gold-digger.
The Ex factor
Unless it's an exceedingly casual or inadvertent mention, no one should discuss their previous relationships on a first date. Most people know this, so if your date is going on about what they liked or didn't like about their ex or all the fun things they used to do together, this is a sign of unresolved issues. Unless you're all right with being someone's rebound, keep your radar up here. Whether your date actually gets back together with an ex or is always comparing your relationship to that one, someone with freshly packed baggage can be a real drag!
Let's go Dutch
Hear this, ladies—on a first date, the guy should want to pay. It's up to the lady whether she lets him, but if he doesn't offer now, he probably never will. While men should definitely not pay for everything in this day and age, offering on the first date is just being gentlemanly. If he doesn't it could mean a lot of things, but none of them are good.
I remember getting to the bar, but that's about it…
Some of the best dates never seem to end, and there's nothing wrong with going barhopping together. But if your date is pounding one drink after another, with or without you, it's a bad sign. Not only is it bad form to get 'faced in your first face-to-face, it hints at a larger problem. It could mean that the person lacks confidence, is trying to force a connection, or might have a drinking problem.
An addendum for the ladies: if he's trying way too hard to get you drunk, that means he's only interested in one thing.
May I see your resume?
If your date lobs a ton of intrusive questions at you that make you feel like you're in a job interview, it suggests the person has exceedingly high expectations, is cynical, uptight, or all three. The vibe should be relaxed and playful, not clinical. If you feel like you're being vetted for a security clearance, getting involved with this person is not likely to produce the warmest, most understanding relationship in the world.
Encouraging Signs
A cozy atmosphere
It can take a little while to break the ice, but if you get to a point in the date where you feel almost as relaxed as when you're out with your friends, it's big. This is where the fun really starts. If you feel comfortable touching each other's arm when you connect on some point, sit close together, and can't keep smiles off your faces, you've crossed a threshold that many pairings never do.
Me too!
If you find yourselves constantly echoing each other's sentiments, finding that you went to the same summer camp, or have the same tastes, you're going to have a lot to do and talk about. What you're doing here is connecting, in the truest sense, and it's the bedrock of a relationship. See how far it goes—if you agree on the big stuff too, you're fundamentally aligned.
Time flies
Does it feel like you just sat down when the check arrives? Do you look at your watch and wonder where the time went? When couples have a good dynamic, they're so focused on each other that they're barely aware of the outside world. Consider it very encouraging if you lose track of time during the date. (Obviously, checking your watch every ten minutes would be a red flag.)
Who knew the drugstore was so much fun!
Let's say the best-laid plans go wrong, the restaurant lost your reservation, the roller-skating rink was closed, or whatever—if you make the best of it and have a blast anyway, you have a key component of great relationships. When a couple can turn a trip to 7-Eleven into a memorable experience, they're clicking. Some things in life are fun with almost anyone, but if you can take adversity or boredom and turn into amusement and enjoyment, you're good together.
Take note of each of these indicators and consider them seriously in your assessment of the date and your compatibility. It's important to take every part of the date into account, not just the end. Just because things felt a bit awkward at "goodbye"—perhaps the kiss was unsatisfying, or didn't happen—doesn't mean that overall this was a promising start. If you racked up some Encouraging Signs and there weren't any Red Flags, a second date is almost surely in order!
52 responses to "What to look for on a First Date"
Leave a reply
You must be logged in to post a comment.