Are we dating or just kicking it?
Posted by Ria, 07 Jan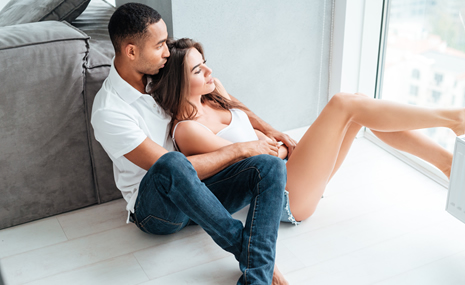 Now here is something that might get your head scratching as it does mine. You get all dolled up in a hot sexy dress, go out with a man to a dimly lit restaurant, and engage in some animated conversation. Come the end of the evening, you hug each other affectionately and everyone goes their own direction. Is that a date?
What exactly qualifies as a date? I don't know about you but I must admit that question really puzzles me. When do you know that a guy is really interested in you rather than 'just kicking it' as most of us put it? In this age and era, unless someone practically tries to shove his tongue down your throat at the end of a 'date' - or whatever it is you call it - it's hard to tell.
Find your soulmate on AfroRomance










Back in the day, when someone asked you out it meant they were interested in you and wanted to date you. Today, one has no idea what a guy really wants. I mean, you could be on a date and not know it; or think a guy is ho t for you only to realize he just wanted to chill out. Damn! My head is spinning.
Our parents had it soooo easy: Man wants woman, man makes intentions known, before she realizes what hit her, woman is married and filling the earth – no confusion. I know it sounds like a silly problem but come to think of it, you could be going out with a guy who thinks you are just hanging. Meanwhile, you are busy fantasizing what your name, coupled with his last name would sound like.
Now, I hope you understand why it bothers me. It has happened to me. I used to go out with this guy a hell lot but wasn't sure whether he was just taking it slow with me or wasn't interested in me that way. Well one day at some party he had asked me to accompany him, I got my answer loud and clear. As hot and sexy as I looked, he spent the night eyeing some bosom endowed woman in the room and before the night was over, he gave me money for my taxi as they left hand in hand. It was hard to pick up what was left of my dignity and learned my lesson the hard way … with a broken heart.
Whatever happened to those good old days, when a guy would write you silly poems that don't rhyme or ask you upfront that he would like to take you out on a date? Sounds like another lifetime don't it? Well, it's hard to believe these things used to happen in the 1990s. Asking someone on a date was as important as asking someone to marry you … people steered away from all confusion.
What happened to that man who dropped hints like kissing you on the lips till your leg pops just to make it clear that he likes you more than just a friend, or the one that asked "I'd like to take you out on a date"? Did he suddenly become an endangered species?
Instead of being told "Do you want to grab a drink?", I would like to be asked straight up "Would you like to go out on a date?". And if you just want to kick it, kindly make it clear from the beginning with both actions and words. Or give women a clear sign … anything to take away the guessing games that leave one wondering: Are we dating or not?
I miss the poetic old days … don't you?
44 responses to "Are we dating or just kicking it?"
Leave a reply
You must be logged in to post a comment.