Try these romantic book quotes this Valentine's Day
Posted by Ria, 02 Feb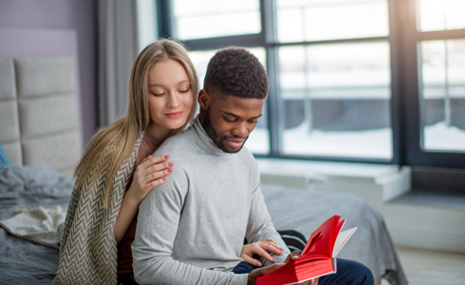 When the person says "I love you" all the time, do you sometimes feel like they are overusing the words? As much as I love hearing those three little words, there are times I feel like my partner is just saying them for the sake of saying them or simply because they have become words that are easy to utter.
Poetry aside, you can express your love for someone using some of the most romantic book quotes. Some might be classics but you be amazed at how not old-fashioned they are. With classic novels like Gone With the Wind to Shakespeare's infamous Romeo and Juliet, this Valentine's day needs to be a day to express how you feel about your loved one through books.
Find your soulmate on AfroRomance










With love in the air, I know you have the right gift or the perfect romantic getaway planned. The big question is: Do you have the right words for presenting the gift? What are you going to tell your loved one while you are cuddling in front of that beautiful fireplace?
If you are one lost for words – or if the only poetry you know is "I love you", then this article has some great Valentine romantic book quotes that will help you say more than just that. Let's see what these authors and the books they have written have to show us about expressing love with words this Valentine's Day.
10 best romance book quotes
1. Emily Brontë - Wuthering Heights
"Be with me always - take any form - drive me mad! Only do not leave me in this abyss, where I cannot find you! Oh, God! it is unutterable! I can not live without my life! I can not live without my soul!"
Up to date, this tale of indestructible love and passion has stood the taste of time! Imagine telling your loved one you cannot live without their soul in place of I love you.
2. William Goldman -The Princess Bride
"Do I love you? My God, if your love were a grain of sand, mine would be a universe of beaches!"
One of the things I love about The Princess Bride is that it is full of funny yet very romantic quotes. This expression of love begins to tell your Valentine that you love them much more than they do you. So, whatever kind of love they feel they have for you is just a drop in the ocean compared to what you feel for them.
3. Boris Pasternak - Doctor Zhivago
"You and I, it's as though we have been taught to kiss in heaven and sent down to earth together, to see if we know what we were taught."
I think this one truly qualifies as one of the most romantic book quotes you can use on your significant other as you cuddle. Can you imagine the heights this line can take the two of you?
4. Margaret Mitchell - Gone with the wind
"You need kissing, badly. That's what's wrong with you. You should be kissed and often, and by someone who knows how"
Ok. This comes next to the one we just mentioned because the two can follow each other and can be such a great mood setter for the evening.
5. Louis de Bernières - Captain Corelli's Mandolin
"When you fall in love, it is a temporary madness. It erupts like an earthquake, and then it subsides. And when it subsides, you have to make a decision. You have to work out whether your roots are to become so entwined together that it is inconceivable that you should ever part. Because this is what love is. Love is not breathlessness, it is not excitement, it is not the desire to mate every second of the day. It is not lying awake at night imagining that he is kissing every part of your body. No … don't blush. I am telling you some truths. For that is just being in love; which any of us can convince ourselves we are. Love itself is what is left over, when being in love has burned away. Doesn't sound very exciting, does it? But it is!"
If you are in search of romantic deep book quotes about love, Captain Corelli's Mandolin is it. The above quote is definitely for the poetic partner. You could write it out on the card or recite it as a poem. What do you think?
6. Nicholas Sparks - The Notebook
"I am nothing special; just a common man with common thoughts, and I've led a common life. There are no monuments dedicated to me and my name will soon be forgotten. But in one respect I have succeeded as gloriously as anyone who's ever lived: I've loved another with all my heart and soul; and to me, this has always been enough."
Here you will be telling your Valentine that nothing else in life matters but him or her.
7. Charlotte Brontë - Jane Eyre
"Every atom of your flesh is as dear to me as my own: in pain and sickness it would still be dear."
Can you imagine how you would feel if someone told you that they care about you just as they care about themselves? Great right? Well, borrow this quote and tell your Valentine that.
8. Choderlos de Laclos - Dangerous Liaisons
"Now, I'm not going to deny that I was aware of your beauty. But the point is, this has nothing to do with your beauty. As I got to know you, I began to realise that beauty was the least of your qualities. I became fascinated by your goodness. I was drawn in by it. I didn't understand what was happening to me. And it was only when I began to feel actual, physical pain every time you left the room that it finally dawned on me: I was in love, for the first time in my life. I knew it was hopeless, but that didn't matter to me. And it's not that I want to have you. All I want is to deserve you. Tell me what to do. Show me how to behave. I'll do anything you say."
Now, this one right here sounds like those Valentine book sayings that can be a perfect lead to a Valentine's day proposal. If you are planning to use this one, you better put a ring on it (wink).
9. Henry James - The Portrait Of A Lady
"It has made me better loving you … it has made me wiser, and easier, and brighter. I used to want a great many things before, and to be angry that I did not have them. Theoretically, I was satisfied. I flattered myself that I had limited my wants. But I was subject to irritation; I used to have morbid sterile hateful fits of hunger, of desire. Now I really am satisfied, because I can't think of anything better."
... will you marry me? lol
10. William Makepeace Thackeray - Vanity Fair
"It is better to love wisely, no doubt: but to love foolishly is better than not to be able to love at all."
The thing to take home is that even the hardest of souls sometimes need such deep, most romantic book quotes to be said to them as a show of affection. Have you taken notes? Well, if this is what you are going for, then I am sure, based on what you have planned for the evening, you know which quotes will melt your Valentine's heart.
If you want to go the extra mile, check out these books on Amazon and get him or her one.
1 responses to "Try these romantic book quotes this Valentine's Day"
Leave a reply
You must be logged in to post a comment.